Creating a website in today's world, has been made simple by several tools. Each tool having their shortcomings and advantages too. Most people have problem on what CMS to choose when creating a blog. However, a lot has been said on choosing the best CMS that is right for you. By clicking here, you get to know this.
Here, we will place our focus on building a standard site using WordPress with all WordPress have got to offer.
WordPress has it application both for Android version and PC version and doesn't limit you based on whatever device you want to use as an admin.
Moving forward, the following are what to consider before creating any website using WordPress CMS and this are explained in the steps below.
— STEP ONE —
You have to choose to unique Niche. This Niche tells your audience what your site is all about and makes them want to check up on it to get whatever solution you have got to offer.
However, a lot has been said in choosing a perfect Niche. Here the description for the niche we are choosing for this tutorial is about natural beauty without make up and therefore would look way more like "www.naturalbeautytips.com"
— STEP TWO —
If you succeeded in choosing the perfect niche just the way, I choose mine. A big Congratulations, you are now qualified to sign up at  www.wordpress.com. Which gives a user interface like the image below.
Pin
After this you click on create website
— STEP THREE —
Here, you have to choose the category your Niche falls under, the niche we choose for this tutorial falls under fashion/beauty
Pin
After this
— STEP FOUR —
The next thing to do is the choose the structure of design that flows with the kind of content you want to create.
Pin
For the sake of this tutorial and site we want to create we choose the grid structure
— STEP FIVE —
This deal with the theme that flows with the structure you want. For this tutorial we choose the Dyad Theme. For yours you can choose whatever you want that appeals best to you
Pin
— STEP SIX —
We enter the unique niche we have just created into the search box. The niche (www.naturalbeautytips.com) we choose was rejected, so we have to choose another, with the modification made, our new Niche/domain name is now "naturalbeautynomakeup.com" for this tutorial
Pin
Doing this you get to see the availability of your niche.
— STEP SEVEN —
The next thing is that WordPress will ask you if you want to purchase the domain name or if you want to use it as a free blogger.
However, you can choose to purchase the domain name and by doing that, you become a premium WordPress user. Also you get to enjoy the benefits that comes with it such as what you get here
Using your domain name as a free blogger means it becomes a sub domain of WordPress to know more about this you can check it out here
Pin
— STEP EIGHT —
For the next step you will be prompted to sign up. What you need to do here is to fill out your necessary details and that's all
Pin
— STEP NINE —
After you sign up, you get to see a confirmation message, telling you that you are ready to get started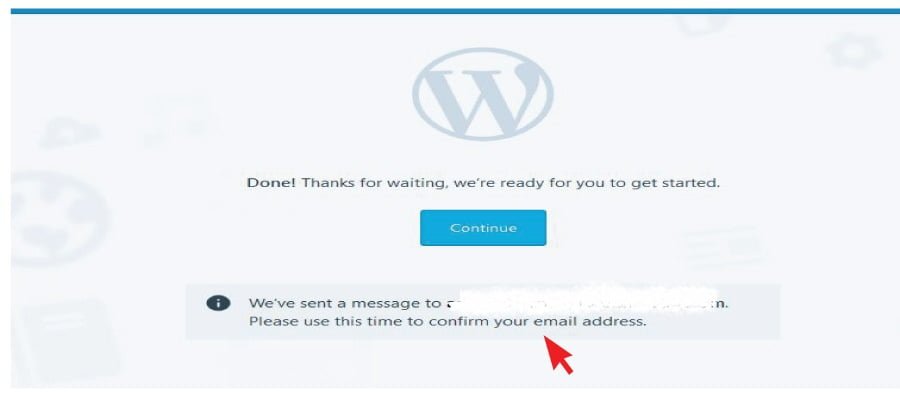 Pin
— LAST STEP —
After signing up, WordPress will take a few seconds to create your admin dashboard to build the content you want in your site. And this is the part I say a big congratulations and welcome you to the WordPress family.
Pin
If you have gotten to this stage then congratulations!!!..