When it comes to writing up a content, images pose to be one of the tool with which you get your audience to find your content interesting. This is because images serve as a clear and concise illustration that makes your content easily understood by your audience,
However, Google and Bing happens to be the biggest search engine on the face of the globe and most bloggers uses these platforms to sort for pictures to use.
This pictures being sort for are owned by others as it could be free and as well not be free. Most bloggers use the licensed ones unknowingly and out of ignorance.
But mind you, ignorance is never above the law as you could be prosecuted for using a licensed picture.
Furthermore, if you must use a licensed picture, you must be ready to pay for it. Because photographers are human beings too and it is their hard work which should pay off. Many website and platform are out their where you can purchase pictures. They include Istock, pixabay, fiverre and so on.
Amongst this licensed pictures, there are unlicensed pictures that can be used and reused by another without any form of copyright infringement.
Here I will show you how to search for a unlicensed picture for reused and modification on google.
— THE STEPS —
      1. First you have to go to google.com
      2. Enter the name of the picture you need. For the sake of this tutorials, we will use "makeup"
Pin     
       3. Once the pictures load, what you see are not filtered by license
       4. Go to settings
       5. Click on advance search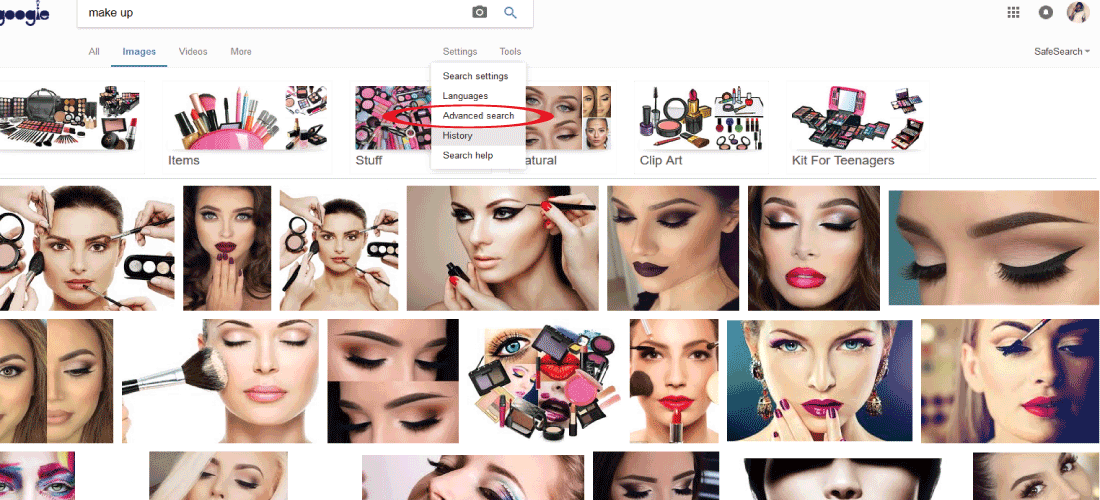 Pin
     6. On the usage right options click on free to use, or share even commercially
Pin
Pin
     6. And that's all the mages that shows are not licensed and you are on the safe side
Pin
Thanks for taking out time to read this post. I would appreciate if this post gets a comment before you leave