The internet has helped a lot when it come to online business.
In fact the growth is such that as the day goes by, more unique and upgraded online activities keep coming up. This have however helped all form of business that has an online presence in terms of advertisement, sales and so on.
It has also become a  source of financial products, services and information, Electronic trading, or online investing, has become popular.
As more investors explore the Internet for the purpose of personal financial management and investing, it is important to remember that it is just a tool. A working knowledge of basic personal finance, good decision making skills and an understanding of the potential risks are essential to investing, especially when investors enter the online space.
— THINGS REQUIRED BEFORE INVESTING IN AN ONLINE INVESTMENT PROGRAM —
Check out how true it is especially if it is HYIP using HYIP monitors

If it is too good to be true or a PONZI scheme

If you are interested in trading, understand that, most likely, you are not linked directly with the market and that the click of your mouse does not instantly make a real time trade or cancel an order.

Determine if there is a delay in the stock quotes and account updates you are receiving.

Check out the online broker's ability to get the best price for investors. Most brokerage firms provide this information on their websites.

Obtain information about entering and canceling orders (market, limit, and stop loss) and the details and risks of margin accounts (borrowing to buy stocks).

Get information from the firm about delays, website outages, interruptions, ease and speed of trading. Make sure that the firm has an alternative way to execute trades.

Know how to contact a customer service representative at the firm if problems should occur and you need a live person to talk with immediately.

Be sure that it is not a pyramid scheme. And if it is and you must invest, be sure you are ready for the risk as the chance of return might be small
— DIFFERENT TYPES OF ONLINE INVESTMENT —
there are so many types of online investment. however, lets look at the following
— ONLINE NETWORK MARKETING —
Whether you like or not but network marketing or MLM (multilevel marketing) is one of online business idea you can start.  There are hundreds of  MLM companies you can join & promote online. You can make money simply by referring people in the company.
Its better if you choose an established company with a good product. You need to research & make sure that the company you join don't have any problem in future.
— AFFILIATE MARKETING —
Affiliate marketing is another most popular online business you can start. Here, you need to signup as an affiliate in a company & promote its product. There is a great income potential in affiliate marketing but its not that simple to work as an affiliate. There are hundreds of best affiliate marketing companies like Amazon, Flipkart, Clickbank, Commission Junction, Wealthy Affliate many others you can join & promote. You need to learn each & everything about affiliate marketing before you actually make money from this.
— FOREX TRADING —
There is no hot business than Forex trading if you have great understanding of the market. People make thousands of dollars in Forex trading. But there is risk of losing your money if you don't have proper idea on this. And that is the reason, it's not advisable for everyone.If you want to start this business then you need to learn this completely & you should always try with small amounts before you become confident.There are dozens of websites such as Binary option which provide the great tips & daily insights of the market and you should regularly check these sites to get the knowledge.
— BECOME AN ONLINE SELLER —
If you are looking for a simple online business then there is nothing better than becoming an online seller. Whether its Flipkart, Amazon, eBay, AliExpress or any other shopping site, you can signup there as a seller & make money by selling different products. There is no problem if you don't have any product. In fact, thousands of sellers who are making money as a seller does not have their own product. They just buy it from the local market at a very cheap rate & sell it at a higher price on these sites. You can join any or all the shopping sites & start selling.
— BECOME A FREELANCER —
Freelancing is another best online business anyone can start. There are number of best freelancing sites where you can signup & provide number of services to the people or companies. You can charge a fixed amount or on hourly basis for a particular project. There are many online services you can provide as a freelancer. You can check sites like Elance, Upwork, Freelancer.com & many other sites provided here to do some research on different types of work people provide & charges they take for providing the work. Many people make $500+ as a freelancer. And there are freelancers who make even more than $5000+ a month from this online business.
— DEAL IN DOMAINS —
You've heard of antique dealers and even car dealers, but what about dealing in domains? Domains are internet real estate and like real estate they could be considered as an investment. Don't just buy any domains, spread your risk with a portfolio and make sure you hold out for the highest price possible. Learning how to connect with the end consumer, rather than other domain dealers, will enable you to get the highest price possible for your domains.
— MANAGE SOCIAL MEDIA PROFILES —
Social media is an important part of any online business. The problem? Time! Most business owners simply don't have the time to be involved with Twitter, LinkedIn, Face Book and other sites, in a pro-active way. That is where you can help.
If you can engage clients and build up attractive social media profiles, then you will be able to attract clients, which makes this a service with value. Again, these projects are posted on freelance sites such as People Per Hour and Elance on a regular basis, so you can start building up clients straight away!
— SOLD AD SPACE AND SPONSORED POSTS —
A different opportunity than using Google Adsense on niche sites is to sell ad space on your blog directly. Say you have 50k unique visitors per month on your site, you can approach companies in your niche and offer them to advertise on the blog.
This allows them to get their content in front of 50k people each month, who ideally come to your blog because they're interested in what you're writing about. Selling ad space works best for online magazines and established blogs.
Basically it's nothing different than your local newspaper selling ads. You have an audience that companies want to get in front off, and you sell that
— KNOWING DIFFERENCES BETWEEN A LEGITIMATE MULTI-LEVEL MARKETING COMPANY AND A PYRAMID SCHEME IN ONLINE INVESTMENT —
Pin
A legitimate multi-level marketing company emphasizes reliable products or services. A pyramid scheme uses products or services to disguise its quest for collecting money from the investors on the bottom levels to pay other investors further up the pyramid.
In a typical pyramid scheme, new investors must pay a fee for the right to sell the products or services as well as for the right to recruit others into the pyramid for rewards unrelated to product sales or services. Very often the products or services the victim must buy are unsalable, and the pyramid's promoters refuse to repurchase them. On the other hand, legitimate multi-level marketing companies will buy back unsold merchandise, although often at a discount from the original price.
Success in multi-level marketing is based on two factors: product and service quality, and the hard work involved in being able to sell the products or services. Recruitment of new investors is secondary.
— RECOMMENDATIONS (1) —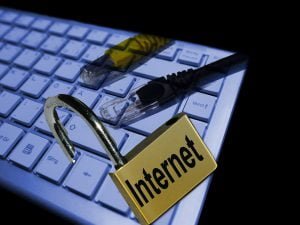 Pin
 Never use unprotected computers, whether at an airport, library or an office, for use when accessing your financial accounts or records.

Keep the security features of your computer software up-to-date. This includes your Web browser, virus scan software and firewall. Email attachments and links within email can contain viruses and infect your computer without your knowledge.

Never provide your online account information when requested by email – your online broker would already have this information! Don't respond to unsolicited emails from companies that you do business with requesting that you revalidate your personal information or that provide a link to web sites that require you to revalidate your account information. These links often lead to bogus web sites that look legitimate in order to fool you into providing secure information.

Before entering personal information on any web site, look for the "locked padlock" icon on the browser frame, or "https" at the beginning of the web address to ensure that the site is secure.

Change passwords regularly.

Log off the website after you have submitted an application or concluded a secure online session.

When your computer is not in use, shut it down or disconnect it f rom the Internet.

If you think you may have fallen victim to an online scam, change your passwords, contact your online brokerage




account immediately, and monitor your account activity closely.
— RECOMMENDATIONS (2) —
Research before you invest. Unsolicited emails, message board postings, and company news releases should never be used as the sole basis for your investment decisions. Understand a company's business and its products or services before investing. Look for the company's financial statements on the SEC's EDGAR filing system.
Know the salesperson. Spend some time checking out the person touting the investment before you invest – even if you already know the person socially. Always find out whether the securities salespeople who contact you are licensed to sell securities in your state and whether they or their firms have had run-ins with regulators or other investors. You can check out the disciplinary history of brokers and advisers for free using the SEC's and FINRA's online databases.
Be wary of unsolicited offers.Be especially careful if you receive an unsolicited pitch to invest in a company, or see it praised online, but can't find current financial information about it from independent sources. It could be a "pump and dump" scheme. Be wary if someone recommends foreign or "off-shore" investments. If something goes wrong, it's harder to find out what happened and to locate money sent abroad.
Protect yourself online. Online and social marketing sites offer a wealth of opportunity for fraudsters. For tips on how to protect yourself online see Protect Your Social Media Accounts.
Know what to look for. Make yourself knowledgeable about different types of fraud and red flags that may signal investment fraud.