Sproutgigs, an online micro jobs, and gigs platform, has been making waves in the digital marketplace. However, like with any online venture, one question looms large: "Is Sproutgigs a Scam?" In this exposé, we aim to shed light on the platform's authenticity and reliability, drawing from personal experiences and shared anecdotes from other users.
The Sproutgigs Experience
Sproutgigs is a versatile micro-jobs website that seamlessly connects those in need of assistance with individuals ready to undertake a wide array of micro-tasks. The platform welcomes gig posters and task seekers to engage in a mutually beneficial arrangement, where users can perform tasks spanning from straightforward to challenging. The pay varies, and some tasks offer as little as 0.040 cents while juggling multiple tasks simultaneously can yield up to $1.
See: Secret Websites To Make Money: Top 100
Notably, Sproutgigs predominantly serves as a hub for hiring gig workers. It's worth mentioning that some users take the initiative to create tasks, allowing others to undertake them.
Sproutgigs categorizes its gigs into Digital Marketing, Digital Writing, Graphic Design, Presentation, Photo & Video, Mobile Apps, Web Development, and SEO. The majority of gigs offered on Sproutgigs are relatively small in scale, usually completed within a few hours, with pay ranging from $5 to $20. Once users accumulate a minimum balance of $10, they can conveniently withdraw their earnings via PayPal.
The Unsettling Truth: Sproutgigs is a Scam
My Story
I ventured into Sproutgigs with the intention of hiring freelancers to perform tasks for me. The platform necessitated a minimum deposit of $10, and I promptly made the payment. Below is proof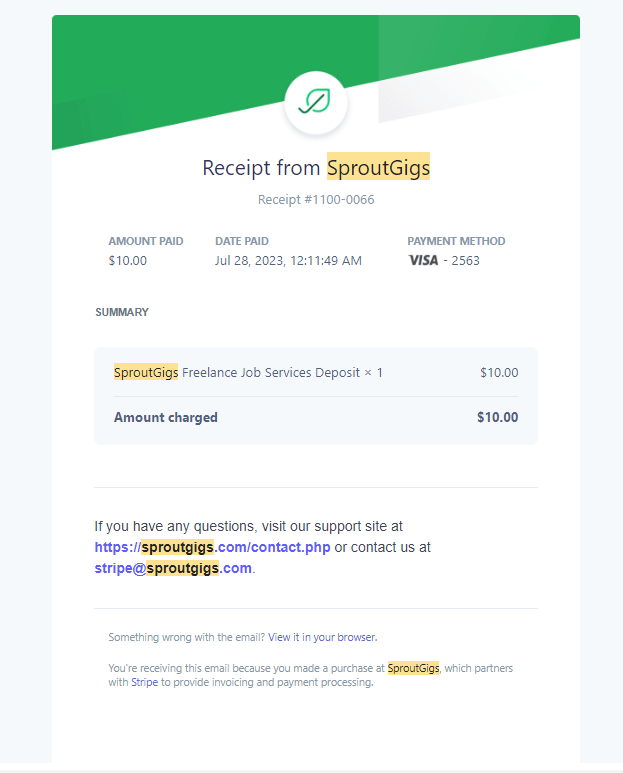 Pin
However, it didn't take long for me to notice a disturbing pattern: the gigs on Sproutgigs were extraordinarily inexpensive, potentially signaling red flags. See image below 
Pin
In due course, I submitted a request for video stock footage, which was surprisingly delivered within two days. Image below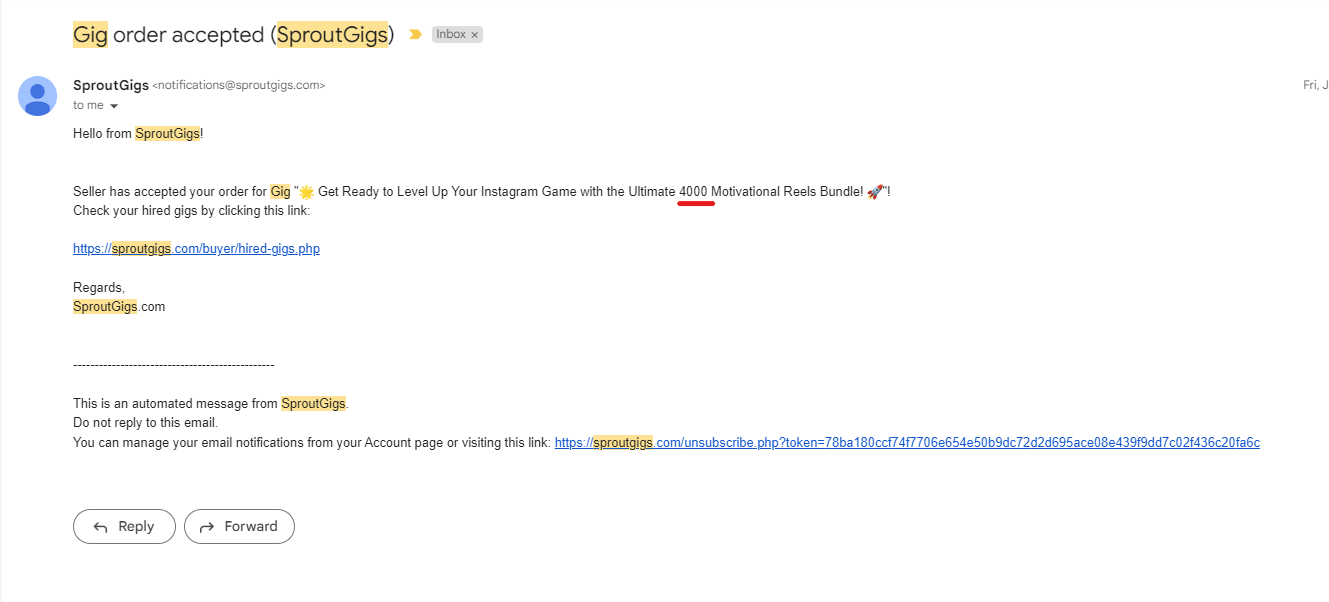 Pin
As my experience appeared to be progressing positively, my account abruptly faced suspension just a week later, leaving me baffled.
I contacted the customer service department, explaining my situation, only to receive vague accusations of rule violations without any clarification. My subsequent requests for a refund and further information were met with stony silence. Finally it hit me hard that Sproutgigs is a Scam.
Pin
A Plethora of Troubling Accounts
If you've traversed the online gig economy, you've likely encountered disconcerting tales of the platform known as Sproutgigs. Sproutgigs is a Scam! A wolf in sheep's clothing, this fraudulent website masquerades as a legitimate platform but predominantly facilitates scams, benefiting employers with ulterior motives. Adding insult to injury, Sproutgigs has gained notoriety for suspending user accounts arbitrarily, thereby robbing individuals of their hard-earned income.
In case of doubt lingers, one only needs to peruse the numerous user reviews found on platforms like Trustpilot, Sitejabber, and NotScam, each echoing stories of dismay and disillusionment.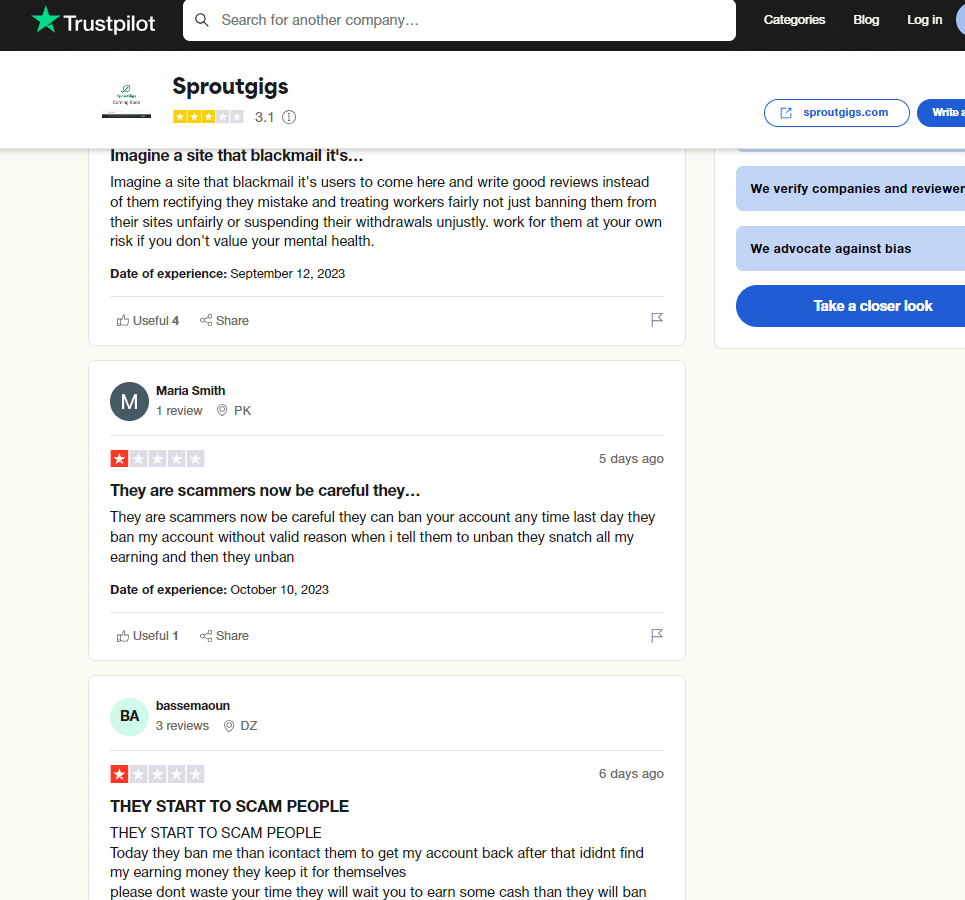 Pin
Trustpilot reviews indicate that users are pressured to leave positive feedback, with payment withheld if they refuse. If you are wondering what replacement is better than the Scam site called sproutgigs, consider using Timebucks. Watch the video below
Why Sproutgigs is a Scam: Concluding Thought 
In summary, "Sproutgigs is a Scam" is a statement that rings true, backed by personal encounters and countless testimonies. This platform, once seen as a potential source of income, reveals itself to be a pitfall of fraudulent activity, leaving users in financial limbo and exasperation. In light of these revelations, it is unequivocal: Sproutgigs is a colossal scam that should be approached with utmost caution or, better yet, avoided altogether.